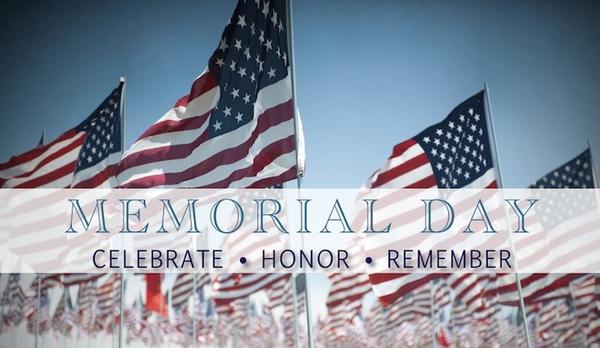 Tips for Staying Safe this Memorial Day Weekend
Tips for Staying Safe this Memorial Day Weekend
Everyone looks forward to Memorial Day barbecues, afternoons at the beach and honoring our fallen heroes. However, it's easy to get caught up planning fun activities, that you overlook safety and security precautions at home when you're looking forward to getting away. These reminders will help to get everything organized, so you start out your summer safely and secure.
Memorial Day Safety and Security Tips
Little Things Tip Off Burglars
A burglar's job is to get in and out of your house fast and undetected. He doesn't want to risk getting caught, so he'll be scoping out your house for changes that tip him off when you're not home.
He'll be watching to see whether the lawn is mowed weekly, if the car is in the driveway, trash cans are ready for pickup and when your lights come on nightly. Not to mention newspapers piling up in the driveway or curtains that aren't opened daily.
Anyone of these situations that no longer follow your normal schedule could be the tip he's looking for that tells him you're on vacation.
To avoid tipping off burglars that you're not home, consider hiring a house sitter or ask a neighbor to help out. Have somebody pick up the mail and newspapers. Cut your lawn the day before you leave. Make sure lights throughout the home are on a timer that mimics your regular habits.
Mums the Word
It is so fun to talk about where you're going on vacation with friends, co-workers and social media. After all, everybody wants to know about your plans and what you'll be doing. However, don't reveal the details of your trip such as the dates you'll be gone or whether you have a house sitter. This kind of information is just what thieves are looking for.
Be particularly careful about what you post on Facebook, Blogs or Twitter. You never know what you might accidentally give away about your private residence or personal plans.
Securing the House
Make sure all doors and windows are secure. This means finally getting around to installing those dead bolts you've been thinking about on all exterior doors. All locks and deadbolts should be drill-resistant and pick-resistant. If your home has sliding glass doors, take a dowel rod or a baseball bat and wedge it between the door and the frame to prevent the door from being lifted out.
Secure your garage and garden storage sheds. The garage and gardening shed are often overlooked when taking off for vacation. However, both of these contain a number of very handy garden tools and power tools that make it so easy for thieves to break into your house. Lock them up!
A week before leaving on vacation, walk through your home inside and out looking for easy entry points or security issues. Put yourself in a burglars shoes, and think about the easiest place to break in. Make necessary repairs, and make sure nothing left outside like forgotten tools or ladders could be used to get in your home.
Consider signing up for a security system. Having a monitored security system in your home, video cameras and a monitoring service for fires helps to provide security and peace of mind.
If you are going to be out of town or the country, have a back-up plan. Have someone you trust on your call list for your burglar alarm that can respond if you are unable.
Memorial Day Safety and Security Tips for Travel
Map out your destination and know what route you're taking. This reduces confusion and allows you to focus on your driving.
Make sure the kids are buckled up and have toys or puzzles to keep them occupied while you drive to prevent distractions.
Set down safety rules for children to follow when traveling to a strange destination. Such as, don't talk to strangers and stay close to the family.
When thinking about Memorial Day safety and security tips for travel, don't forget about servicing your car. This helps to prevent accidents or breakdowns in the middle of nowhere.
If your vacation includes a boating trip, make sure everyone in the family knows about boating safety rules and has a life jacket.
Memorial Day Safety and Security Tips for the Home
Before firing up the gas grill, perform a safety check. Make sure everything is in good working order and there are no gas leaks. To avoid safety issues, place the gas grill several feet from the house or combustible objects.
Make sure pool fences are secure and there are working locks on all gates. Never leave little kids alone in pool areas without direct supervision.
Check out all the toys and sporting equipment before the barbeque or family gathering. Make sure everything works properly and does not pose a safety issue.
Memorial Day safety and security tips benefit everyone all year long. Planning and taking safety and security precautions helps to assure that everyone will have an enjoyable and safe summer.