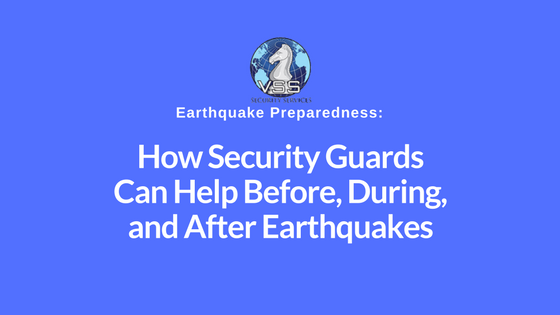 Earthquake Preparedness: How Security Guards Can Help Before, During, and After Earthquakes
Office buildings are one of the most commonly affected by even the slightest seismic activities. The taller the building, the more vulnerable it can be. Therefore, building owners always have earthquake preparation plan to ensure the safety of everyone inside.
Security guards can play a huge role in implementing these plans and making sure everyone is safe before, during, or after an earthquake.
Here are some ways security guards can help:
BEFORE THE EARTHQUAKE:
Seismic activities are being recorded and reported from time to time. Security guards should be keen and alert when a seismic activity has been reported.
Security guards can inspect the stairs, corridors, walkways, and other exits that can be used to evacuate the building.
They can also remove obstructions and other things that may cause accidents during the earthquake.
DURING THE EARTHQUAKE:
Guards are responsible for ringing the alarms when they receive a report that there is an actual earthquake. By doing so, people will be notified that there is an earthquake happening and will be able to go to a safe spot.
Security guards can also help in managing people traffic to evacuate the building. Ensuring they are actually following the practiced earthquake drill.
Security guards can assist children, elderly, pregnant women, and PWDs in evacuating the building.
AFTER THE EARTHQUAKE:
Security guards usually use people counter to record the number of people coming in and out of the building. Thus, they can use the records to tally the actual number of people inside and to make sure that no one is missing.
Guards can work with the emergency team to roam around the building for search and rescue.
Security guards can inform everyone if it's already safe to come back inside the building