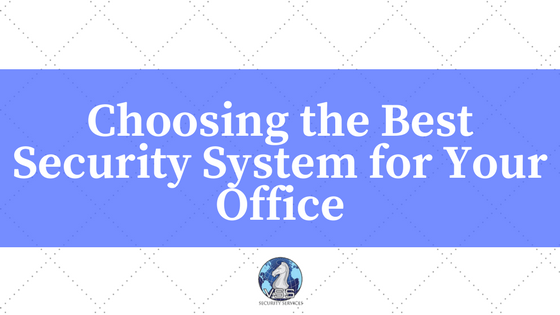 Choosing the Best Security System for Your Office
Keeping a robust security system is a must in every office. Since technology is ever growing, you can only expect security tech and gadgets to keep on evolving through the years. With that being said, it's your responsibility as a business owner to keep up with the technology and make sure that you're making the most out of these latest gadgets.
But the main question is: What's the best security system for my office?
It's a bit challenging to find the system that will work for you with a lot of security technology coming out.
Since each business is different, it's important for business owners to learn the pros and cons of different security systems and identify their business security needs.
Security Guards:
Hiring on-site security officers has many benefits. This is the reason why it still remains to be the number one option for safety and security system in most offices.
Advantages:
On-site security officers are trained in many types of office scenarios and situations like fire prevention, earthquake drills, and giving first aid.
Armed or unarmed guards are available to secure your location or property.
Most guards are also trained in emergency preparedness like bomb threats, campus lockdown, flood, medical emergencies, and power loss.
Security officers are trainable and can make decisions on their own during emergencies.
Security guards can also be helpful in client public relations.
Disadvantages:
Manual report writing: Reports are subjective based on security guards' observations and thus, are not that accurate.
Sleeping on duty
CCTV and Surveillance cameras:
Surveillance cameras are used to transmit videos to closely monitor a specific area.
Advantages:
Monitors a specific location or area without physically being there
CCTV recorded videos can be used as evidence in court against criminal activities
Save money on monthly monitoring fees
Deters theft
Disadvantages:
CCTV doesn't alert the police
CCTV system can come with unexpected costs (gobbled up internet data).
CCTV systems can be hacked.
CCTV cameras CAN'T STOP the crime in progress
Requires hired monitoring to be 100% effective
Biometric security:
Biometric security is a more robust security system that requires unique verification for employees to enter the building or access anything that requires security. This system varies from fingerprint scan, voice recognition, iris recognition, retinal scanning, and more.
Advantages:
Improved security: Unauthorized people cannot access
Access cannot be stolen or lost
Reduced operational costs
Disadvantages:
Usage and environment can affect measurements
System requires additional hardware to work
Requires an expert to set up the whole system
Once compromised, system cannot be reset